VISIT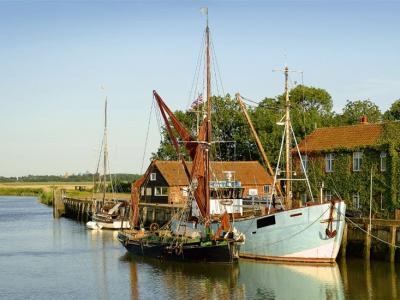 THE AREA
Located near the Heritage coast in Suffolk, there are wonderful towns and villages to visit. The Butley Oyster Inn is about a 15 minute walk from the site and there are plenty of other fantastic local pubs within a short drive.
Sutton Hoo, the Anglo Saxon burial site made even more famous since the Netflix drama 'The Dig', is just 10 minutes drive from the site. Orford, with its castle and quay is 5 miles away as is Snape, with it's wonderful concert hall and amazing shopping in the Maltings - all perfect for a day out cycling. A bit further a field are the coastal towns of Aldeburgh and Thorpeness where fish & chips on the beach is a must. Framlingham with its magnificent castle is definitely worth a visit and Woodbridge is a beautiful town with lovely restaurants, shopping and the famous Tide Mill.
The area around Wantisden Park is worth exploring either on foot or by bike with miles of footpaths and bridleways to keep anybody who appreciates the countryside happy for many hours.
The choice of size and shape takes a little time and sometimes a second visit before surgery to confirm the patient's selection
Silicone implants sizes
In my office, this includes "trying on" silicone implant sizers in a special bra and spending ample time in front of the mirror until you see what you want to see
Saline breast implants sizes
Breast implants size